Sold Out!!
Excellent pedigree's!!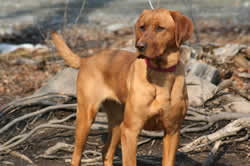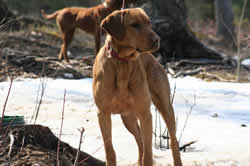 Interested in Fox Red Pointing Lab
Pups?
Let us know!!
See Pictures and Pedigree's down below.
Fox Red Lab Pups Go Fast - Get your deposit in soon!
Kenai Rivers Sir Jake - Jake Pedigree
KenaiOutfitters.com Jaycee - Jaycee Pedigree
Jaycee is the granddaughter of Helm's Point Doctor, PT who attracted attention from across the nation, especially after his photo appeared in the April 2004 edition of Outdoor Life Magazine. Jaycee is the daughter of the Signature Point Doctor from Nebraska. Jake is the grandson of Sauk River Featherstorm Jake who is a Grand Master Pointing Retriever Champion. All dogs originate from the Late Mayo Kellogg line.

KenaiOutfitters
Jaycee
D.O.B 01-07

Jaycee Pedigree

Kenai Rivers
Sir Jake
D.O.B. 07-06

6 Weeks Old!

Beautiful Fox Red Pointing Labs!!

Saying Hi!!

Black noses, black paws, Beautiful Red!

Call today to reserve your Fox Red Pointing Lab Puppy!
These pups descend from the late Mayo Kellogg's South Dakota Line.
Fox Red Pups are 4 weeks old. Beautiful, playful and a lot of fun!!
The pups are having fun picking up scents and playing tag!
Time for a nap after playing in the yard! Call today to reserve a beautiful FoxRed Pointing Lab!
Mama Jaycee keeps a close eye on these 4 week old Fox Red Pointing Lab Pups!
KENAI RIVERS SIR JAKE - FOX RED POINTING LAB AVAILABLE STUD
SIR JAKES BREEDING COMES FROM THE LONG LINE OF MAYO KELLOGG AND JIM HELMS FOX RED POINTING LABS. SIR JAKE IS THE GRANDSON OF HELM'S POINT DOCTOR(FEATURED IN 2005 OUTDOOR LIFE) AND SAUK RIVERS FEATHERSTORM JAKE(GRAND NATIONAL POINTING LAB)

Jake's Grandpa - HELM'S POINT DOCTOR and Jake's Grandpa - SAUK RIVERS FEATHERSTORM JAKE
Pointing Labs By Larry Mueller America's own versatile hunting breed. December 2005
If it's a versatile pup you covet this spring, how about one that's superior at doing what hunters need most and do poorest for themselves? Face it: We can stumble onto game occasionally, but our eyes are such terrible substitutes for decent noses that we're lucky to find downed birds on bare bean fields. The very best versatile dog needs to be a retriever first and foremost. Add pointing instincts to that retriever and you have a real workhorse-the pointing Lab. "Adding pointing instincts" usually suggests outcrosses, but that was not necessary or sensible in developing pointing Labs. It's been about 150 years since the St. John's water dogs were exported to England, where some gamekeepers crossed them onto pointers and setters to improve grace and movement while hunting and retrieving on land. Because those introduced pointing genes are recessive, they most often failed to express themselves unless joined by a like gene. But they remained in perhaps 10 to 15 percent of the Labs. Selecting almost entirely for retrieving skills during those 150 years could not purge pointing genes from the breed. Mayo Kellogg, the real father of the American pointing Lab, noticed pointing in his South Dakota line as early as 1946. Forty years later, he convinced me that a pointing retriever is superior to a retrieving pointer. I wrote about pointing retrievers in 1988, and Mayo received thousands of letters and calls. Mayo passed away last year, leaving his kennel to his son, Hugh. He reports that 95 percent of his buyers ask for Labs that point. Should you wonder about my name on his pedigrees of pointing Labs, it's not an endorsement or partnership. Mayo said he did it to honor my efforts in introducing them to the public Tails Win Like the inclination to point, high tails could not be purged from the breed, and they, too, can be developed as a trait without disturbing the ability to retrieve. High tails make dogs easier to see in cover, but mostly they allow us to better read dogs' minds. Hanging tails provide little clue to intensity; straight-up tails say, "I got 'em." If a naturally high-tailed dog lowers his tail, he's signaling uncertainty. If the tip drops lower than the balance of the tail, he's convinced things aren't as he hoped. The intensity of high tails makes hunting so much more exciting for me that I waited a long time for a pup out of just the right litter and related to Ord, Neb., breeder Jim Helm's fox-red high-tailed Point Doctor (see photo). It was a good plan. I got everything I had hoped for in a pointing Lab, including the readable tail. CALL (907) 260-1901
Fox Red American Pointing Lab History
The Labrador Retriever originated in Canada before 1800 along the east and southeast coast of Newfoundland. First known as the St. John's water dog. They were originally used by fishermen to retrieve codfish that managed to shake off the hook while being pulled to the surface. The dogs also helped haul ashore heavy, water–soaked nets. The advantage of the smooth coat was that ice did not form on the short, water–repellent hair and weigh the dog down.
It is also quite likely that the breed had ties to old English Water Dogs because, early explorers never reported observing the native Americans with any indigenous dogs in Newfoundland. By the end of the 1700's the St. John's water dogs were being shipped to England, where they met with great favor as gundogs. The breed developed and prospered with a handful of private kennels dedicated to developing and refining the perfect gundog.
In the earliest years of the Labrador, yellows were simply culled. The anti-yellow sentiment was strong during the 1920's and dogs of this color did suffer. A separate breed standard was briefly drawn up to address the "problem" of yellow Labradors with houndy features, but eventually it was felt that yellows should simply adhere to the same standard as blacks. Today, you will find as many, if not more, yellows as blacks of the same quality. Only in some hunting circles will you still find the erroneous opinion that "blacks make better hunters."
Kellogg Kennels have been breeding top notch Labs since 1922 and full Pointing Lines since 1981. Founded in 1899 by L.E. Kellogg and Harold E. Kellogg they are recognized for bringing the first Labrador Retrievers west of the Mississippi River. Mayo Kellogg, the founding father, of the American pointing lab noticed pointing in his South Dakota line as early as 1946 and set out, over the next 40 years, to show that a pointing retriever is superior to a retrieving pointer. Mayo passed away in 2003 leaving his kennel to his son Hugh who reported that 95% of his buyers ask for labs that point. Jim Helm, life long friend of Mayo Kellogg, picked up where Mayo left off by continuing to refine and improve the line of American style pointing red fox labs. He really hit the mark with his Helm's Point Doctor (featured in Outdoor Life) and now his son Helm's Signature Poin Doctor.
Kenai Outfitters labrador puppies are descendants of Kellogg and Helm blood lines. Helm's Point Doctor is the nationally recognized dog from the late Mayo Kellogg / Helm line (60+ year breeding program) who was featured in Outdoor Life as "a prime example of the workhorse pointing retrievers that are bred for better style and greater intensity on birds". You will find that Kenai Outfittes Pointing Labrador puppies continue this proud Lab heritage of being popular hunting retrievers and family companions with a reputation for hardiness, scenting ability, good temperament, love of water, and careful retrievers. You will find, just like Larry Mueller of Outdoor Life, that you too will get everything you hope for in a Kenai Outfitters Pointing Lab.